After a early and long day at work, it felt good to come back home and relax a bit. I had been looking at the plans and drawings for a while, reading through trying to figure out exactly how I wanted to go about it. Eventually you have to jump in. No matter how much research I did, I probably would never have felt ready. Thanks to the girlfriend for giving me the push and encouragement to get started.
Horizontal Stabilizer
The instructions tell you to start with the rear spar assembly. Break the edges of the rear spar reinforcement bars, and shaving the edges so it lays flat inside the rear spar channel. After doing this, rounding the ends, and wet sanding with 400 then 600 grit to remove all milling marks and making it nice and smooth. I decided that maybe the large Horizontal Stabilizer isn't what I should start with. This isn't uncommon, after reading some advice on vansairforce a few builders recommend starting with the Vertical Stabilizer. That way if you screw something up it's smaller and cheaper to replace.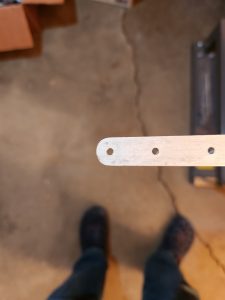 Vertical Stabilizer
I put the Horizontal parts away and pulled out the Vertical ones needed. As far as structure there really isn't much, so it's coming together quickly! I forgot my phone in the house so all you get is one picture of the doubler and lower hinge.
I spent 2.5 hours working on this, and logged it as Horizontal Stabilizer since that's where most of my time went.